Issue Summary News Coalition of Supporters Policy Report Take Action On This Issue
Legislative & Implementation Update

In 2019, Think New Mexico is advocating for the passage of House Bill 281 and Senate Bill 277 to restore $5 million in funding to the Strategic Water Reserve. Please contact your legislators and the governor and urge them to support this funding!
Legislation to create a Strategic River Reserve was initially introduced in the 2004 legislative session, where it was expanded to include groundwater and renamed the Strategic Water Reserve. This bill passed the state House 47-6, but ran out of time as it awaited a hearing on the Senate floor in the final hours of the session.
In 2005, Think New Mexico brought the legislation back with the unanimous endorsement of the Interim Water & Natural Resources Committee and the strong support of Governor Richardson, who called for it in his 2005 State of the State address. This time the Strategic Water Reserve legislation passed the House 58-9, the Senate 40-0, and received $2.8 million in initial funding. In 2006, the Legislature and Governor appropriated an additional $2 million for the Reserve. Think New Mexico is continuing to work to ensure the continued funding and effective implementation of the Strategic Water Reserve throughout the state. Read our 2018 opinion editorial here.

For more information on the implementation and current status of the Strategic Water Reserve, please visit the New Mexico Interstate Stream Commission's webpage dedicated to the initiative.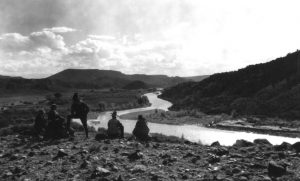 New Mexico's rivers have always been the lifeblood of our state's communities. Today those rivers are increasingly threatened by the colliding forces of drought, population growth, and the competing demands of the federal government and bordering states.
In late 2003, Think New Mexico launched a campaign to improve the state's river management policies by creating a Strategic River Reserve: a pool of publicly held water rights dedicated to keeping New Mexico's rivers flowing to meet the needs of river-dependent endangered species and fulfill our water delivery obligations to other states.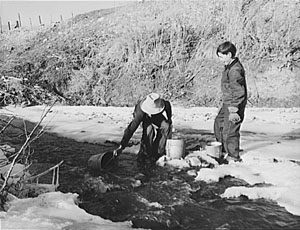 This Reserve will avert expensive lawsuits over endangered species and interstate river compacts. It will also protect and restore the many benefits flowing rivers provide to the state's people and communities. Ultimately, it will give New Mexico a tool to achieve a sensible and sustainable water policy by balancing water use between cities, industry, agriculture, and our rivers.

Read Think New Mexico's 2018 opinion editorial about the Strategic Water Reserve • May 13, 2018

Read Land Letter article on the Strategic River Reserve • January 25, 2007

Listen to KUNM Report on the Year of Water • December 1, 2006 (mp3, 7:27)

Read Water Policy Report article on the Strategic River Reserve • April 18, 2005

Read Santa Fe New Mexican editorial in support of the Strategic Water Reserve • February 4, 2005

Read Albuquerque Tribune editorial in support of the Strategic Water Reserve • December 28, 2004

Read Think New Mexico's opinion editorial about the Strategic Water Reserve • December 23, 2004

Read Santa Fe New Mexican editorial in support of the Strategic Water Reserve • January 19, 2004

Read Farmington Daily Times editorial in support of the Strategic Water Reserve • December 3, 2003

Read Albuquerque Journal editorial on Think New Mexico's Strategic Water Reserve initiative • December 2, 2003