Momentum Gathering to Make Infrastructure Funding Transparent!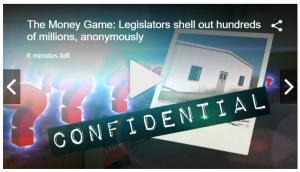 KRQE News 13 investigative reporter Larry Barker has released a riveting new report on the secret process by which legislators appropriate hundreds of millions of dollars to infrastructure projects every year.
As the report highlights, this is one of the last pieces of the legislative process that is conducted behind closed doors.
We are supporting Senate Bill 144 and House Bill 262 to bring transparency to New Mexico's process for funding public works projects. Learn more about these bills and ask your legislators and the governor to support them!