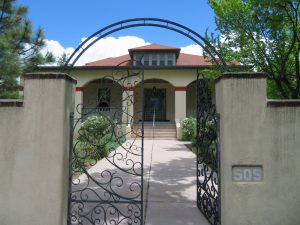 On June 1, 2023, Think New Mexico moved into a permanent headquarters in the historic Greer House at 505 Don Gaspar in Santa Fe, at the corner of Paseo de Peralta and Don Gaspar, directly across the street from the state Capitol.
The Greer House was constructed in 1909 by Nathan Salmon (1866-1941), who emigrated to the United States from Syria at the age of 21. He traveled the Southwestern U.S. peddling goods from a wagon, and on one trip, he ended up stranded by a snowstorm in Santa Fe. He stayed and prospered, opening the Big Dry Goods store on San Francisco Street and ultimately developing a real estate business with his son-in-law, E. John Greer. Together they built the Lensic Theater.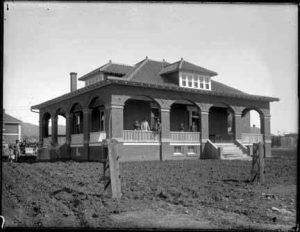 Throughout its history, the Greer House served as a gathering place for New Mexico governors, legislators, and judges. (The home was even the setting for the 1942 wedding reception of Zsa Zsa Gabor and Conrad Hilton, the hotel magnate and former Republican legislator who originally hailed from Socorro.) In its next chapter as Think New Mexico's headquarters, the tradition of policymakers and state leaders meeting in the Greer House will continue.
Download a Brief History of the Greer House
Think New Mexico's purchase of the Greer House is fully funded, primarily by three sources. First, an anonymous donor, who was inspired by the results that Think New Mexico has achieved, contributed $1 million. Second, Think New Mexico raised $900,000 from the sale of a six-acre parcel of land in Taos that was gifted to the organization several years ago. Finally, the remaining funds will be generated by leasing the extra offices in the Greer House that Think New Mexico is not currently occupying.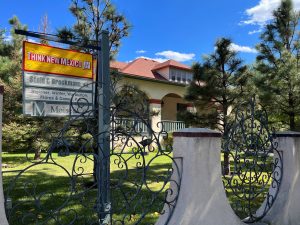 Think New Mexico's purchase of the Greer House came after an extensive search and consideration of 21 different properties in the South Capitol area. The Greer House met the three essential criteria Think New Mexico was seeking in a permanent headquarters. First, it has close proximity to the Roundhouse, which facilitates Think New Mexico's regular meetings with policymakers. Second, the Greer family has taken extraordinary care of the property over the last century, particularly Nathan Salmon's great-grandson Freddie Soldow, who has cared for it for the last 23 years, so that it is in move-in condition. Finally, the Greer House is large enough to allow Think New Mexico to grow our staff over time and magnify our impact for New Mexicans.