Relevant & Rigorous Curriculum
Issue Summary News Policy Report Take Action On This Issue
Issue Summary
When high school dropouts were surveyed about why they left school instead of graduating, nearly half (47%) said a major reason was that they were bored and their classes were not interesting. Their top suggestion to help students stay in school was to make school more engaging and enhance the connection between the classroom and work. In other words, make the curriculum more relevant.
In addition, while most dropouts blamed themselves for failing to graduate, two-thirds of the survey respondents said that they "would have worked harder if more was demanded of them (higher academic standards, more studying and more homework)." Likewise, the Center for American Progress, a progressive think tank, undertook an audit in 2018 of all 50 states' high school graduation requirements and concluded: "rigorous expectations for a high school diploma are a critical first step to preparing all students for success after graduation," whether their path takes them to college or directly into a career.
In 2022, the state Public Education Department released a proposed redesign of New Mexico's high school curriculum in June 2022. That plan diluted academic rigor by shifting courses in government, economics, and New Mexico history from graduation requirements to optional electives. It also rejected the idea of adding financial literacy/personal finance and civics, courses that have been shown to be engaging and relevant, to the high school graduation requirements.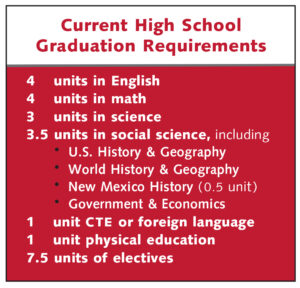 This proposal would take New Mexico in the opposite direction of a majority of states, which require relevant courses like financial literacy and civics.
Think New Mexico recommends that the legislature and governor add a one-semester course in personal finance to the high school graduation requirements. They should maintain the current requirement for a course in government and require that civics education be a part of that government course.
Rather than watering down the high school curriculum in New Mexico, the legislature and governor should bolster it.
Every state university other than Alabama's requires two years of foreign language study. The study of foreign languages in an increasingly globalized world is important not only to be college ready but also to be career ready. The bipartisan think tank New American Economy found that approximately 60% of occupations with the highest demand for bilingual work do not require a college degree.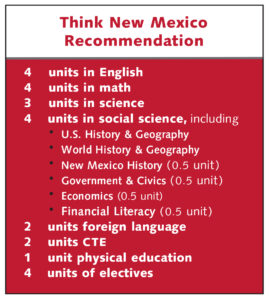 CTE (Career and Technical Education) is another area where students have been underserved and graduation requirements need to be strengthened. Empirical data in a report to Congress from the U.S. Department of Education that examined CTE and graduation rates found that that New Mexico high school students who take at least two CTE courses in a program area, such as film or health care, consistently graduated at rates above 90%—nearly 20% higher than the statewide average of 74%. However, only about 16% of New Mexico high school students currently complete more than one CTE course.
We recommend that the legislature and governor add two credits of foreign language study and two credits of CTE to the high school graduation requirements.
If required courses are added, then an equal number of courses must be subtracted in order to remain at the current 24 overall credits required for graduation. Interestingly, New Mexico is an outlier when it comes to the number of electives required for graduation. New Mexico currently requires students to complete seven and a half electives to graduate. Only one state, Florida, requires more, at eight electives. Nevada also requires seven and a half credits to graduate. The other 47 states require fewer credits than New Mexico, and 21 states do not require any electives. If three and a half required electives are subtracted from New Mexico's current requirements, the total graduation requirements would remain constant at 24, but would be refocused on relevant and rigorous core subjects.
Sign up for our email alerts and follow our Facebook and Twitter pages to stay informed and get involved on this issue!

Read our guest editorial about why the state should maintain strong graduation requirements • July 24, 2022