Individual Development Accounts
Issue Summary News Coalition of Supporters Policy Report Information on Opening an IDA Take Action On This Issue
2006 Legislative Update

In 2006, the legislature passed Think New Mexico's Family Opportunity Accounts Act, providing $1.5 million to support asset-building opportunities for low-income New Mexicans, particularly families with children. Governor Bill Richardson signed the Family Opportunity Accounts Act on March 8, 2006.
The Act was based on Think New Mexico's 2005 policy report, which outlined a strategy to move more New Mexicans out of poverty and into the middle class by encouraging low-income families to save for education, home-ownership, and starting micro-enterprises. Think New Mexico organized a diverse coalition in support of the legislation, and it passed the House 64-2 and the Senate 34-0.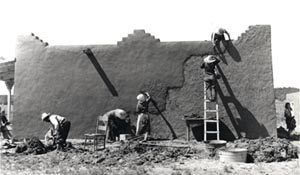 IDAs are interest-bearing bank savings accounts, in which every deposit an individual or family makes is matched with state and private dollars. The funds in the account can only be used for items that build a family's assets, such as placing a down payment on a home, starting or expanding a micro-business, or paying for college or vocational education. In order to receive the matching funds, IDA account holders must successfully complete financial literacy classes, where they learn how to reduce debt, budget, manage a checking account, save, invest and avoid financial pitfalls like predatory lending.
IDAs help families develop the resources they need to move out of poverty for the long-term. Today, IDAs are available to fewer than 300 New Mexicans, although nearly 185,000 New Mexicans live below the federal poverty line.

Read Las Cruces Sun News editorial about the early success of Think New Mexico's Individual Development Accounts legislation • August 8, 2008

Read Las Cruces Sun News article about the implementation of the Family Opportunity Accounts Act • July 1, 2006

Read Think New Mexico's opinion editorial making the case for the Family Opportunity Accounts Act • February 2006

Read Santa Fe New Mexican editorial endorsing Think New Mexico's IDA initiative • November 28, 2005

Read Rio Grande Sun editorial Think New Mexico's IDA initiative • November 10, 2005
Information on Opening an IDA
Opening Your Own Individual Development Account
Think New Mexico successfully advocated for the creation of state-supported IDAs, but we do not directly administer them. To learn more about setting up an IDA for yourself or your family, please contact your local IDA provider. (Unfortunately, limited state funding has reduced the availability of IDAs in recent years.)
New Mexico IDA providers include: Prosperity Works (access their application at this link), and the Community Action Agency of Southern New Mexico.