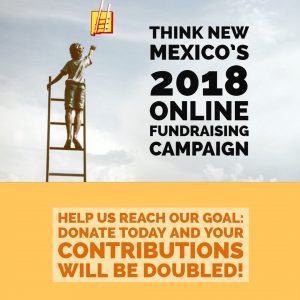 Exciting news: six extremely generous New Mexicans who believe strongly in Think New Mexico's work have put together a pool of challenge grants totaling $75,000—now we need to raise another $75,000 by October 22 in order to meet this ambitious challenge!
As you know, Think New Mexico strives to overcome the wearying partisan warfare and win passage of policy reforms that make life better for all New Mexicans. In this brief video, Associate Director Kristina Fisher sums up (in just 140 seconds!) why it's so crucial to have advocates for the public interest at the policymaking table.
If you've already given to Think New Mexico this year, please know that we are grateful for your support. If you haven't yet given, we hope you will consider donating online or mailing in a check to Think New Mexico by October 22nd (all checks post-marked by the 22nd will count toward the match).
Donations from first-time contributors to Think New Mexico will be matched 2 to 1, so every $1 you contribute raises $3 to fund our work. In addition, any of our existing donors who become monthly donors in the next two weeks will have their gifts matched 2:1 from the challenge grants. Thank you for your support!