Mandi Torrez, 2020 Teacher of the Year, Joins Think New Mexico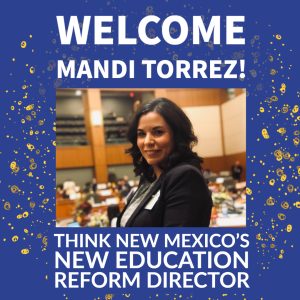 We are delighted to welcome Mandi Torrez at Think New Mexico's new Education Reform Director!
Mandi is New Mexico's 2020 Teacher of the Year. She has a decade of experience teaching third and fourth grade in the Bernalillo Public Schools, and she was also recognized as that district's 2019 Teacher of the Year. Mandi holds an undergraduate degree in Journalism and a Master's in Integrated Elementary and Special Education. Before becoming a teacher, she worked at the Farmington Daily Times as the News Editor and as Copy Editor.
Prior to joining Think New Mexico, Mandi served as Teacher Liaison at the Public Education Department, and she has experience advocating at the state legislature as a New Mexico Senior Policy Fellow with Teach Plus, a policy and leadership training network for teachers.
We are excited that Mandi will be leading Think New Mexico's major new effort to rethink New Mexico's public schools and lift up student performance and outcomes, particularly for the at-risk children who make up nearly three out of four students in our schools. Read a recent Albuquerque Journal editorial about our proposed reforms.