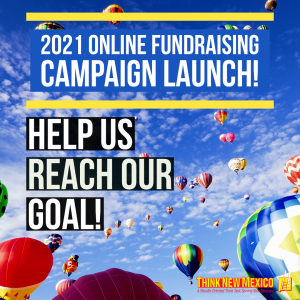 It's time for Think New Mexico's annual online fundraising campaign!
This year, six extremely generous New Mexicans who believe strongly in our work have put together a pool of challenge grants totaling $100,000 – now we need your help to raise another $100,000 by Friday, October 29 at 11:59 p.m. in order to meet this ambitious challenge!
You can help us meet this challenge by donating online or mailing in a check (all checks post-marked by October 29 will count toward the match, and so do pledges – click here to email your pledge).
In addition, another supporter has offered a separate $25,000 challenge grant that must be matched with contributions from new donors, new Monthly Amigos (monthly donors), or returning donors who haven't given to Think New Mexico in the past five years.
All of these contributions will be matched 2:1, meaning that every $1 from a new donor, new monthly donor, or donor who hasn't given since 2016 will raise $3 to help support our work.
If we can successfully match these challenge grants, the dollars we raise will support Think New Mexico's nonpartisan, results-oriented efforts to reduce the maximum annual interest rate for small loans from 175% to 36%; ensure that every New Mexico student receives financial literacy education before they graduate from high school; shift more of New Mexico's education funding from central administration to the classroom where the actual learning takes place; repeal the state's tax on Social Security income, and more.
Thank you for your support!