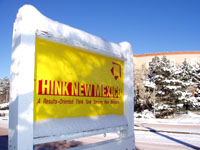 This year, Think New Mexico has an even more ambitious legislative agenda than usual. Here are brief summaries of the bills we are working on, with links to our Action Center so you can contact your legislators and the governor about any of these issues:
Maximizing dollars to the classroom

: we drafted and are advocating for House Bill 77. This bill would limit the growth of school district central administrative spending to no faster than the Consumer Price Index (CPI) or the overall growth in the state education budget, whichever is lower, allowing more money to reach the classroom. Read more about it , and contact the governor!
Making the infrastructure funding process transparent

: we are supporting House Bill 262 and Senate Bill 144, both of which would require disclosure of the sponsors of appropriations for public works projects. This is one of the last pieces of the legislative process that is still conducted behind closed doors. Learn more about this issue.
Restoring funding to the Strategic Water Reserve

: House Bill 281 and Senate Bill 277 would restore $5 million in funding to the Strategic Water Reserve, an innovative water management tool that Think New Mexico led the effort to create in 2005. Read more about it and contact your the governor!
Funding the creation of an All-Payer Claims Database: five years ago, we led a successful effort to create a health care transparency website. The website launched last year, but in order for it to include information about the average prices paid by people who are covered by individual or employer-based insurance policies, New Mexico needs to create an All-Payer Claims Database (APCD), similar to those in place in fifteen other states. Learn more and email the governor to sign the funding that was included in the budget!
Maximizing dollars for lottery scholarships: we are supporting Senate Bill 80, and House Bill 441, both of which would transfer unclaimed prize money ($2-3 million a year) to the scholarship fund. We initially opposed Senate Bill 283, which would repeal the law guaranteeing 30% of lottery revenues to students, but we have worked with the sponsor to add amendments that protect the interests of students. We are opposing Senate Bill 598, which would repeal the 30% guarantee without including any protections for students. Learn more about these bills.
Fighting the food tax: finally, we are opposing any legislation that reimposes the food tax, including Senate Bills 421, 584, and 585. Learn more about this issue here.