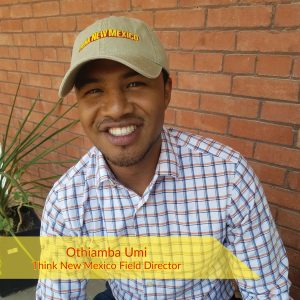 Exciting news: Think New Mexico's Field Director Othiamba Umi has been appointed to the board that oversees the New Mexico Lottery!
Think New Mexico has spent the past five years fighting to get the Lottery to focus on its mission of maximizing dollars for scholarships. Our biggest obstacle has been the Lottery's leadership, which has repeatedly attempted to decrease the percentage of lottery revenues going to scholarships and has failed to put the interests of students first.
We saw yet another example of this behavior this past summer, when the Lottery board voted to raise the Lottery CEO's salary by 26%, from $174,142 to $220,000, along with a car allowance and a golden parachute. (Othiamba learned of this development because for the past five years he has attended nearly all of the lottery's public meetings to act as a watchdog for the public interest.) Every dollar spent on excessive administrative costs – like this extremely high salary – is a dollar less for student scholarships, as we explained to KRQE News.
Fortunately, Governor Michelle Lujan Grisham shared our frustration with the Lottery board, and she just made a major upgrade, appointing five new members, including Othiamba!
Other new members include two Think New Mexico supporters: Leo Romero, former Dean of the University of New Mexico School of Law, and Nina Thayer, who retired from the Biosciences Division of Los Alamos National Lab and is active with the American Association of University Women (AAUW).
Think New Mexico applauds the governor for taking this essential step to improve the accountability of the lottery. The governor's new appointees form a majority of the seven-member oversight board, and we are excited about the difference they can make in re-focusing the lottery on its mission of serving New Mexico's college students.